Water Flosser Oral Irrigator with 10 Adjustable Water Pressures, 600ml Capacity
Water Flosser Oral Irrigator with 10 Adjustable Water Pressures, 600ml Capacity
Description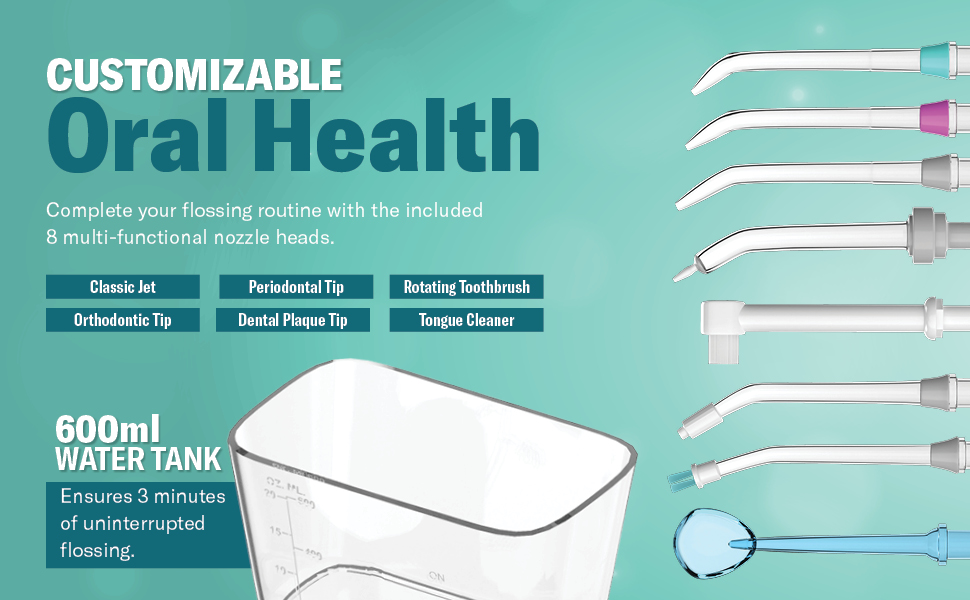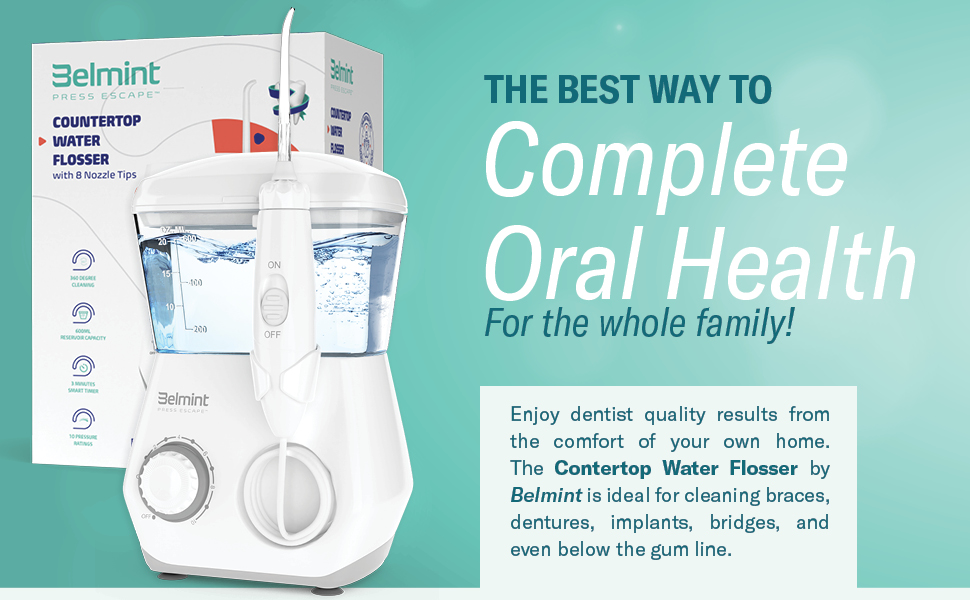 Electric Water Jet Pick Flosser Oral Irrigator Teeth Cleanin Belmint – Press Escape™
CATEGORIES
Useful Links
Press Escape™
Belmint Countertop Water Flosser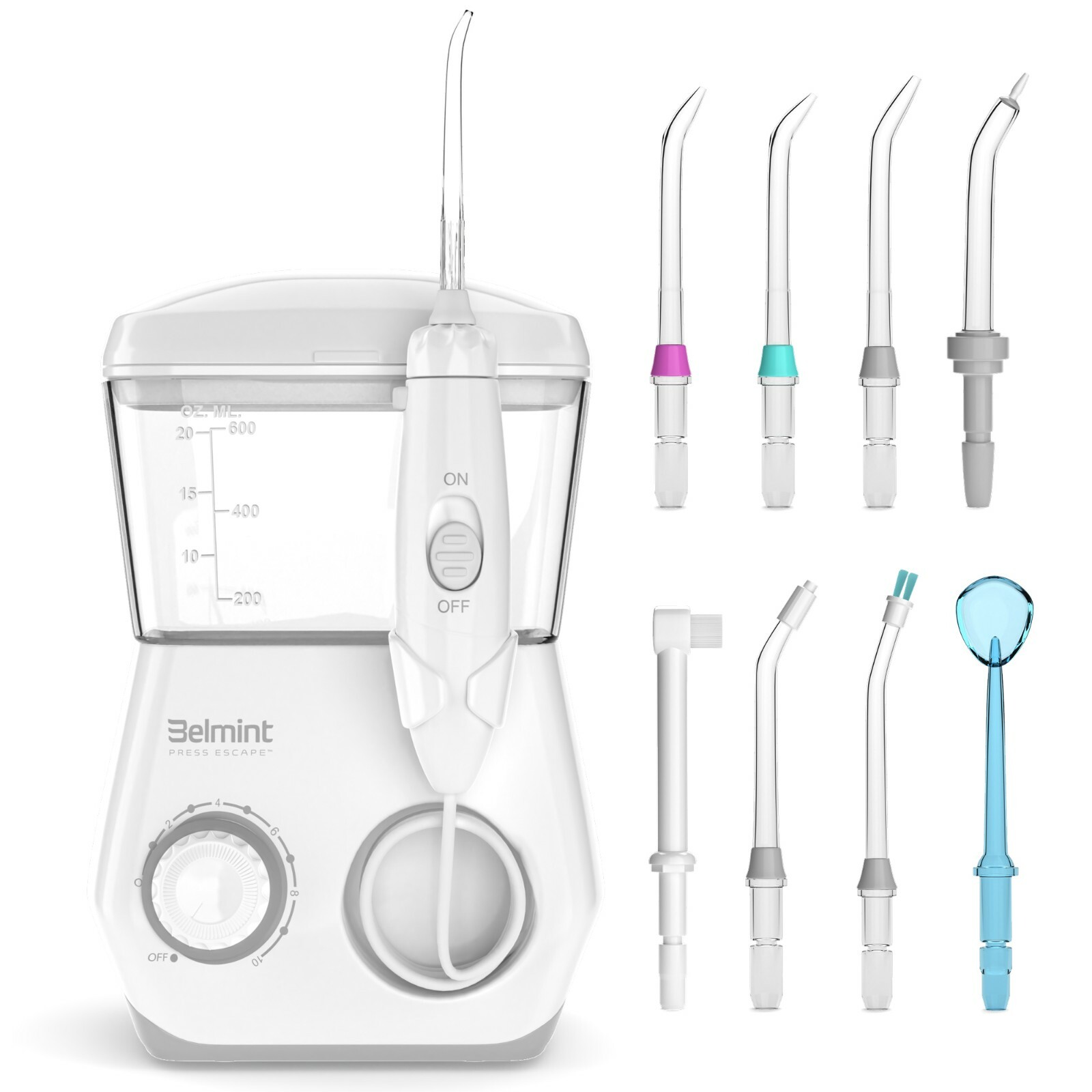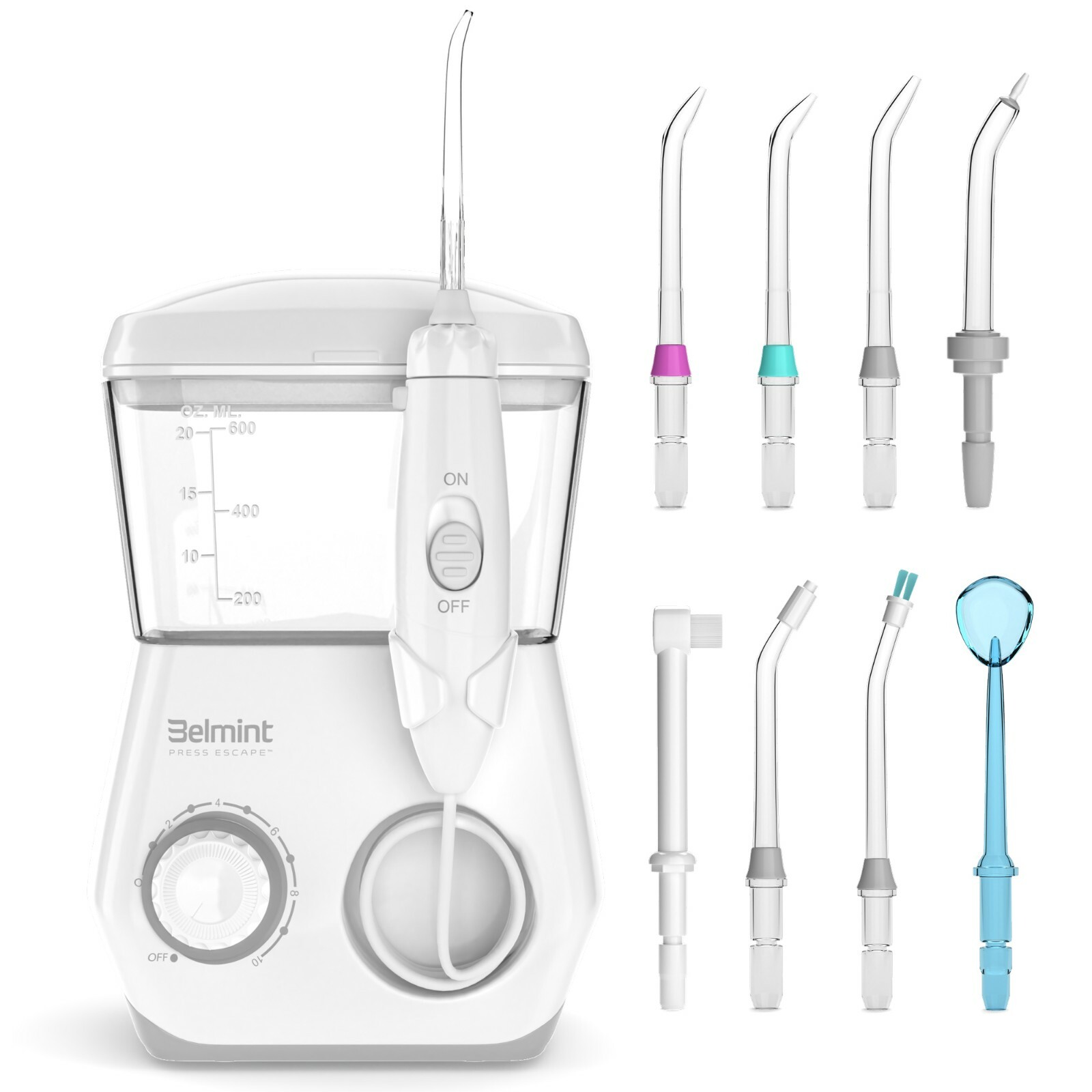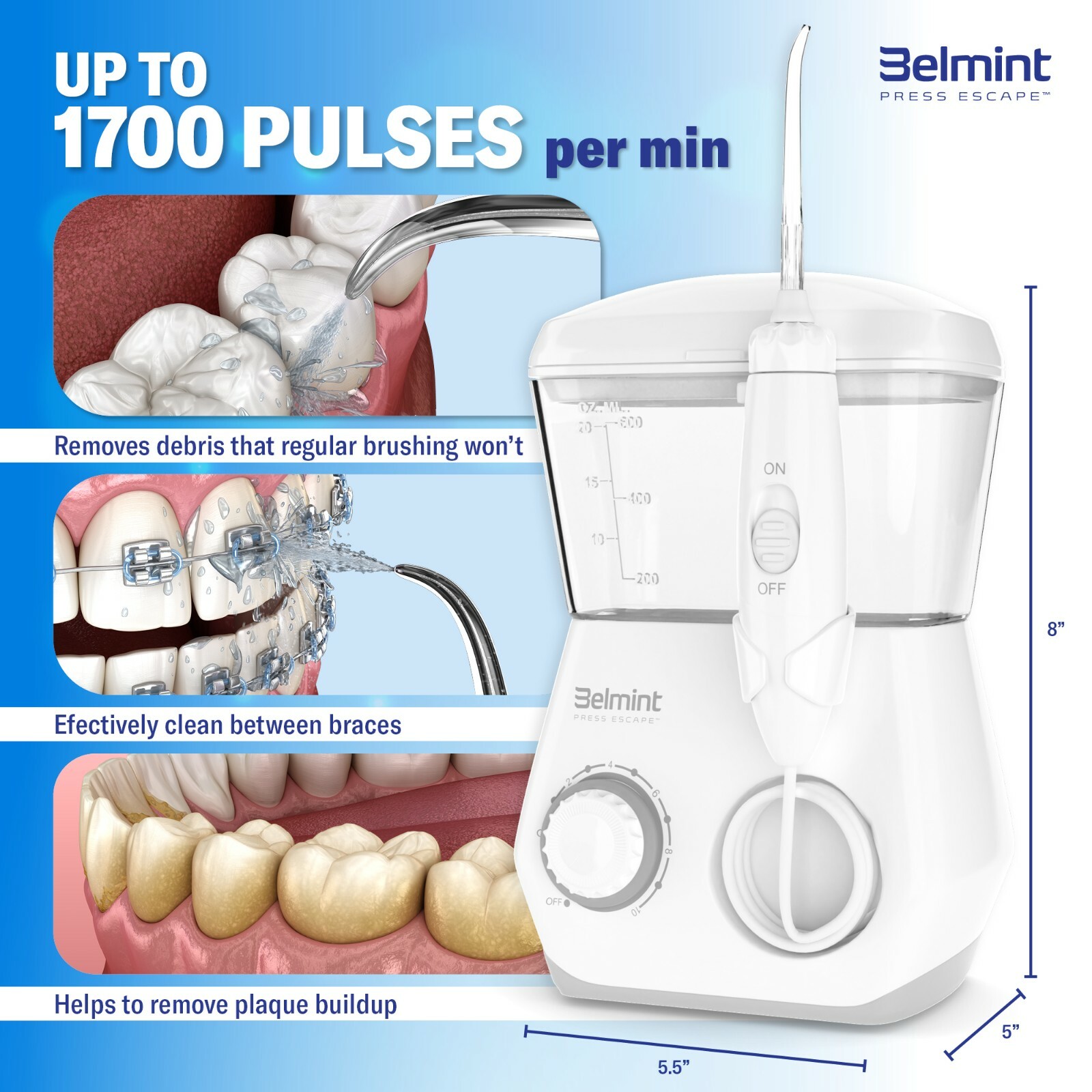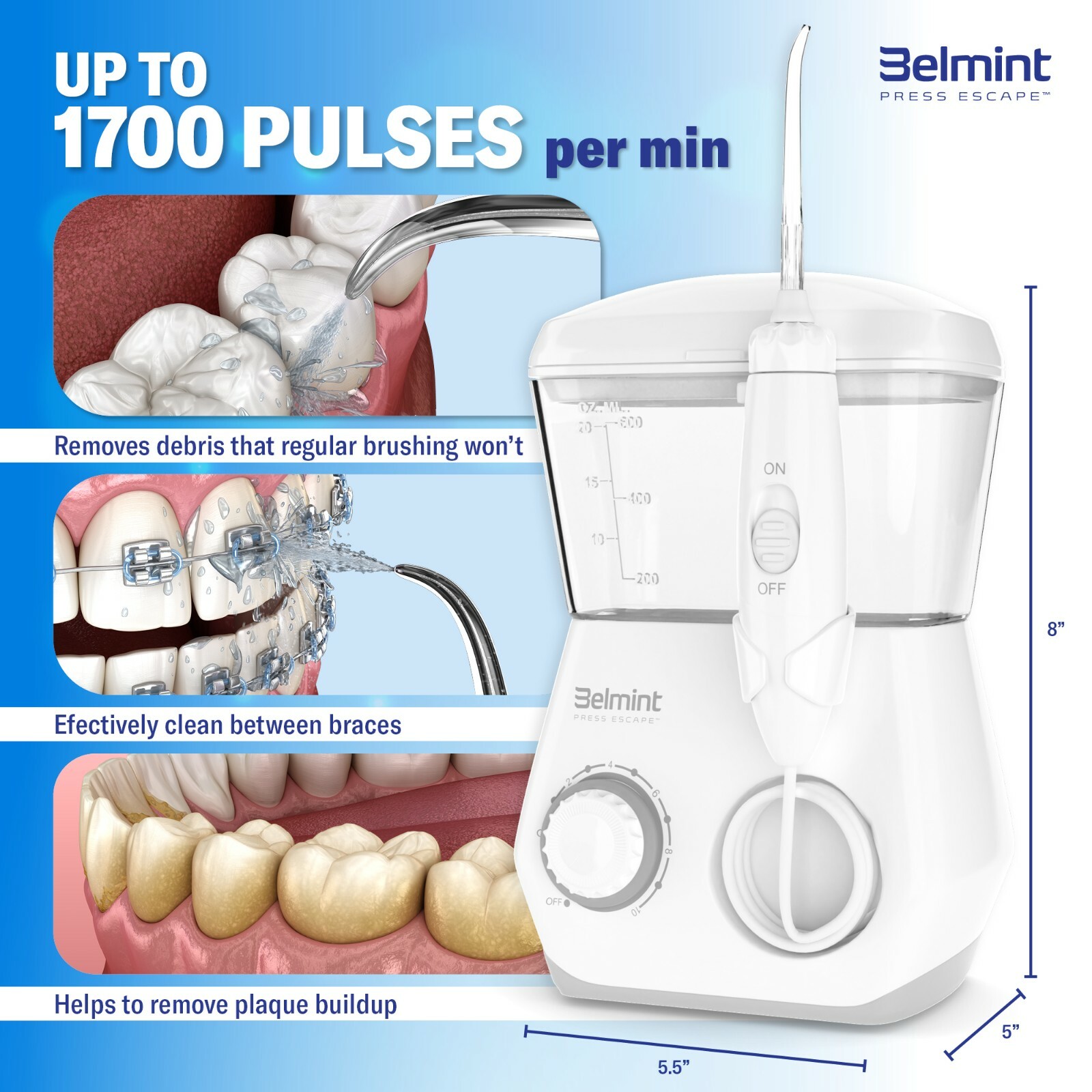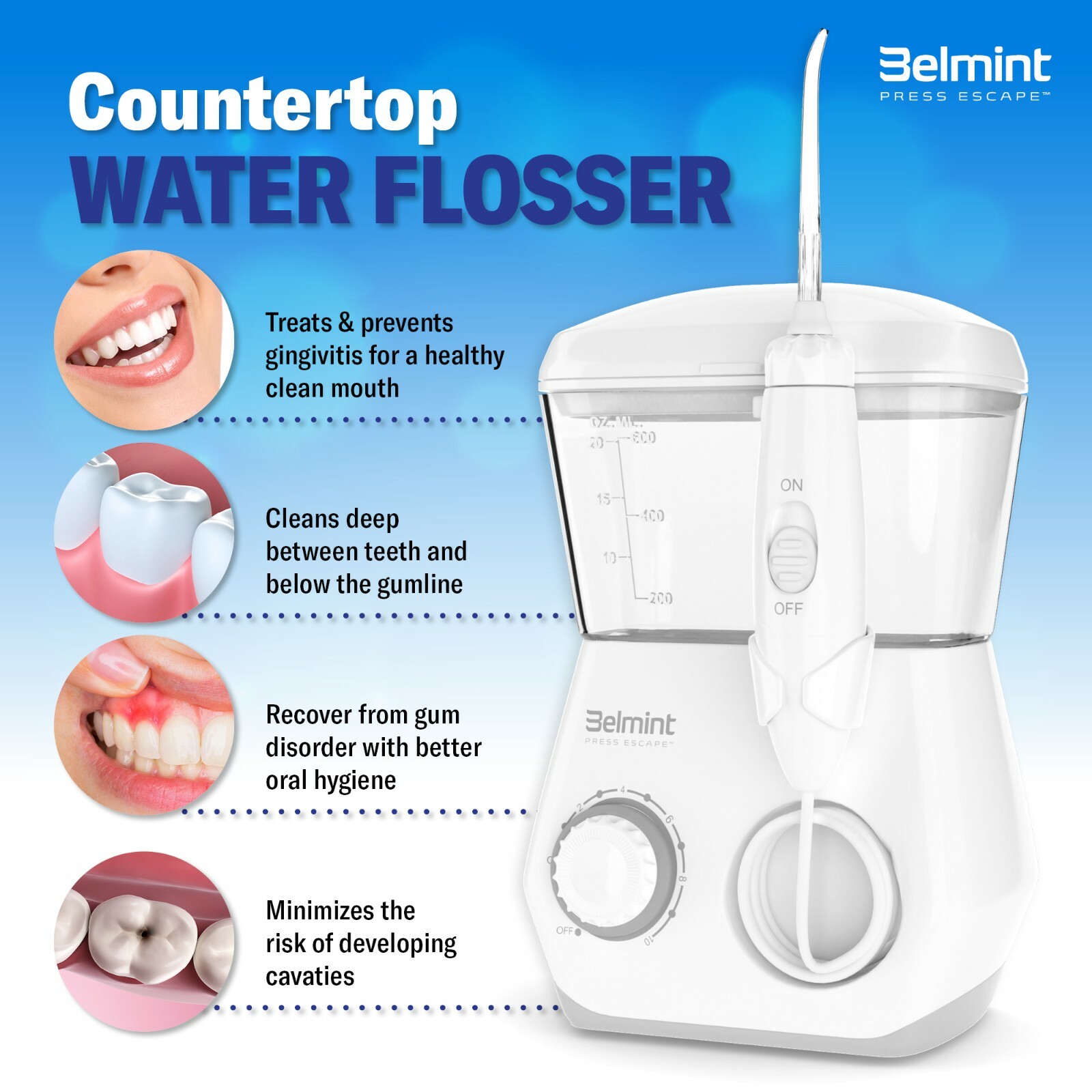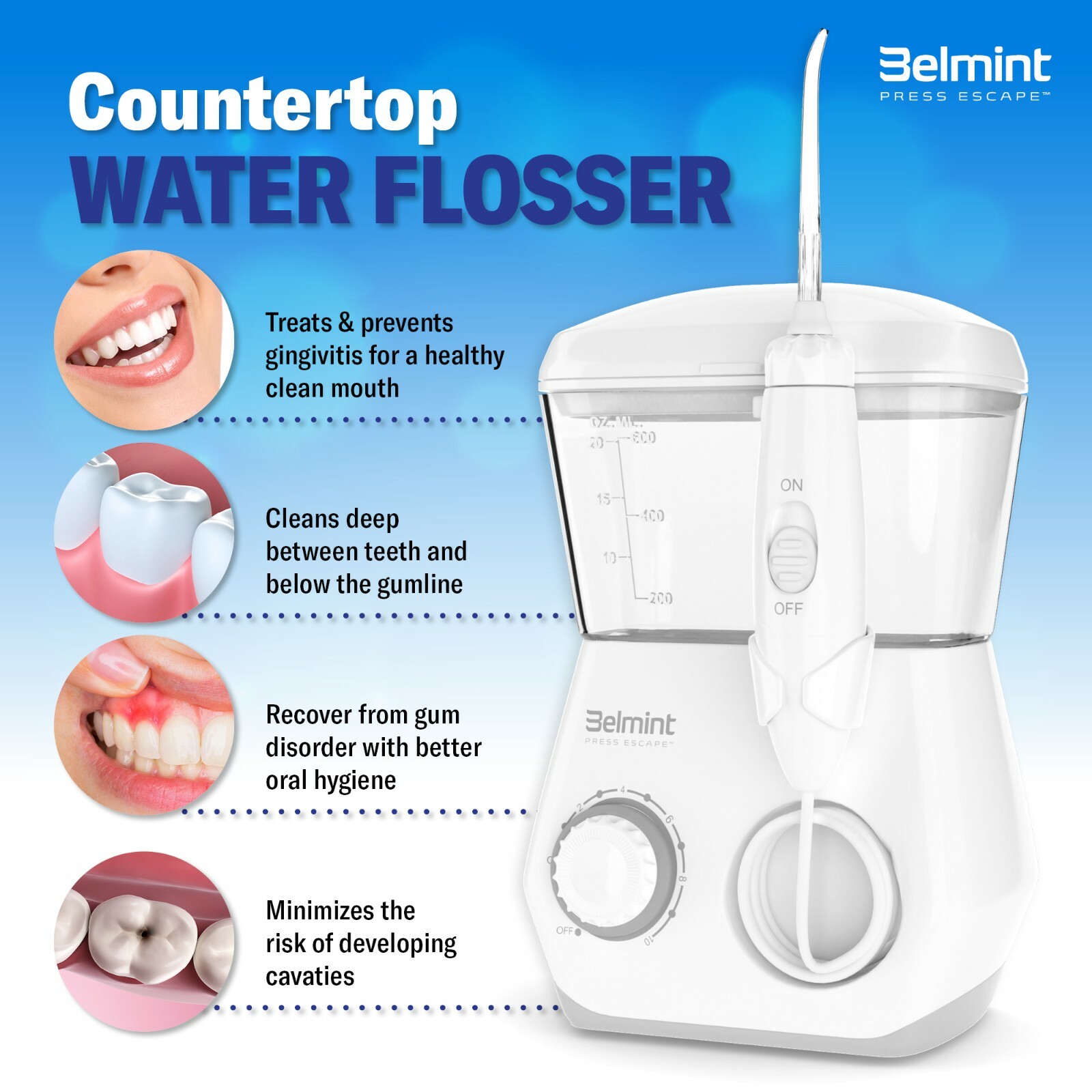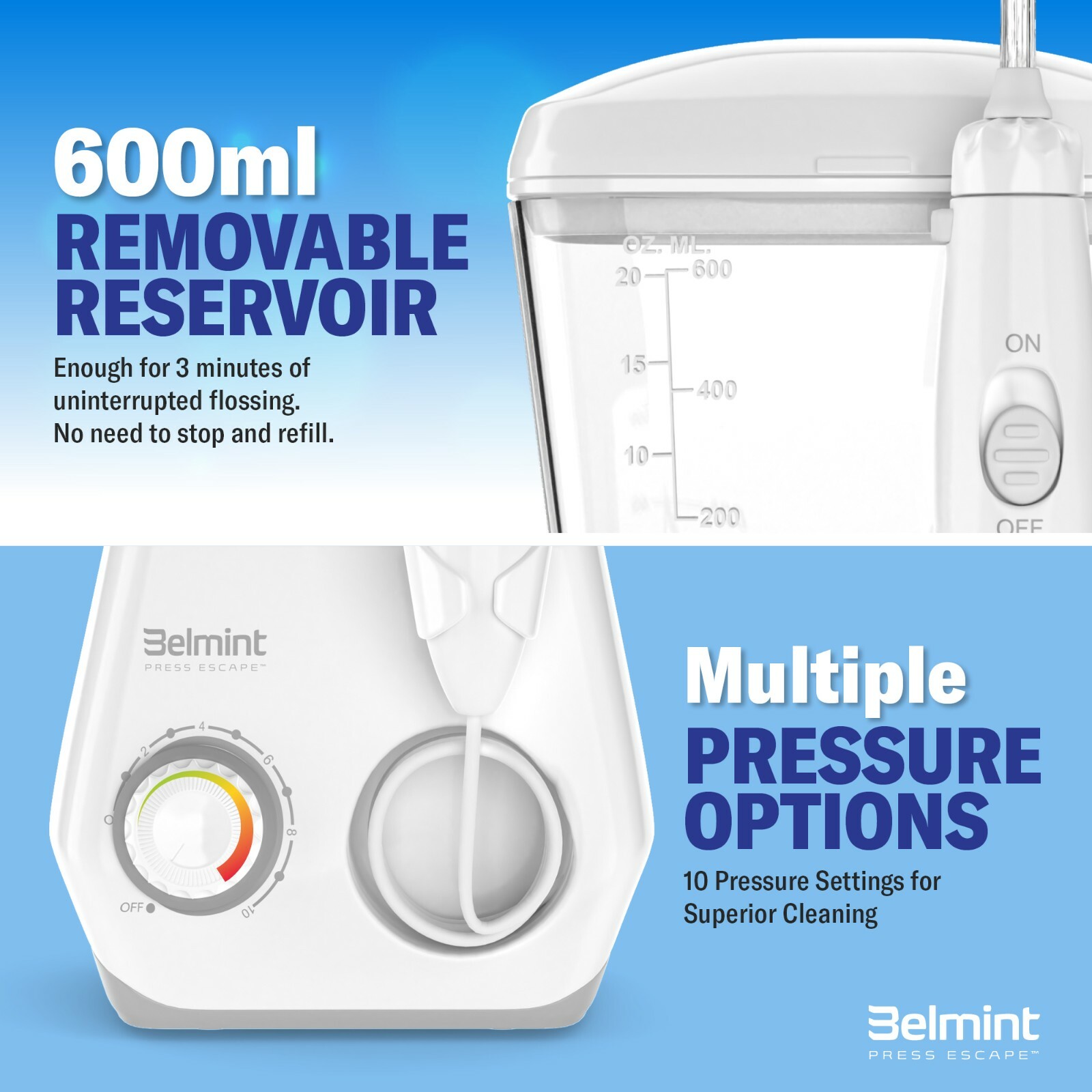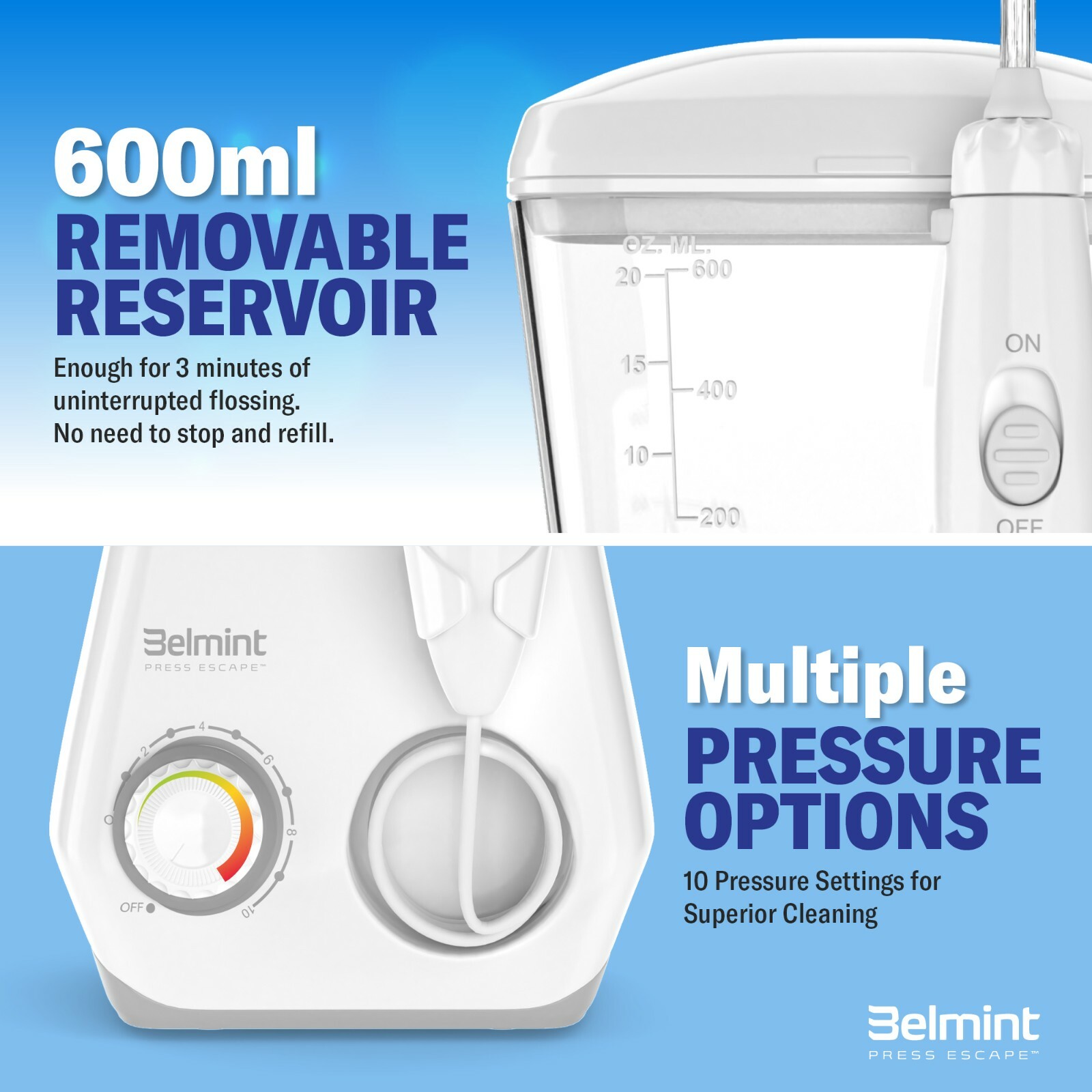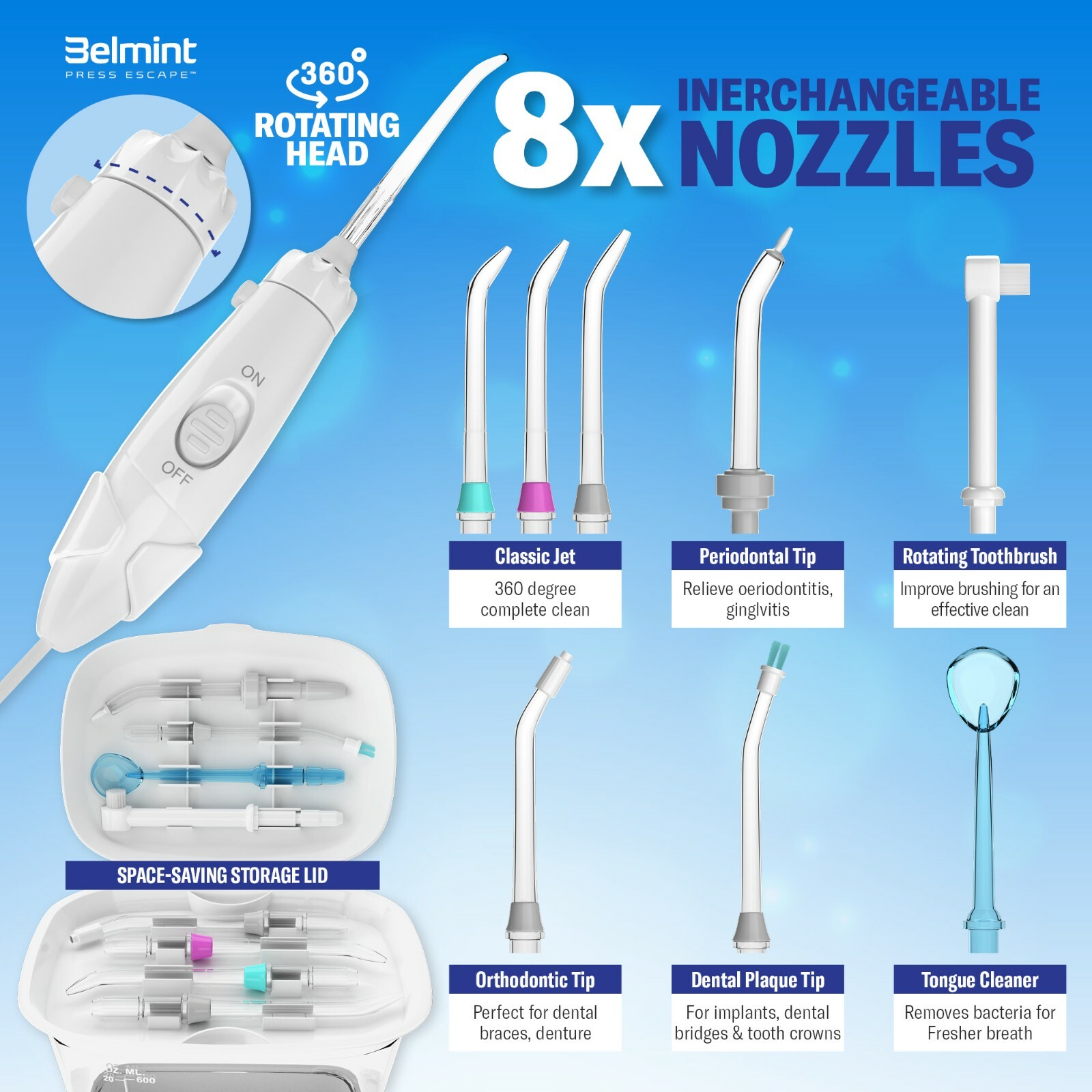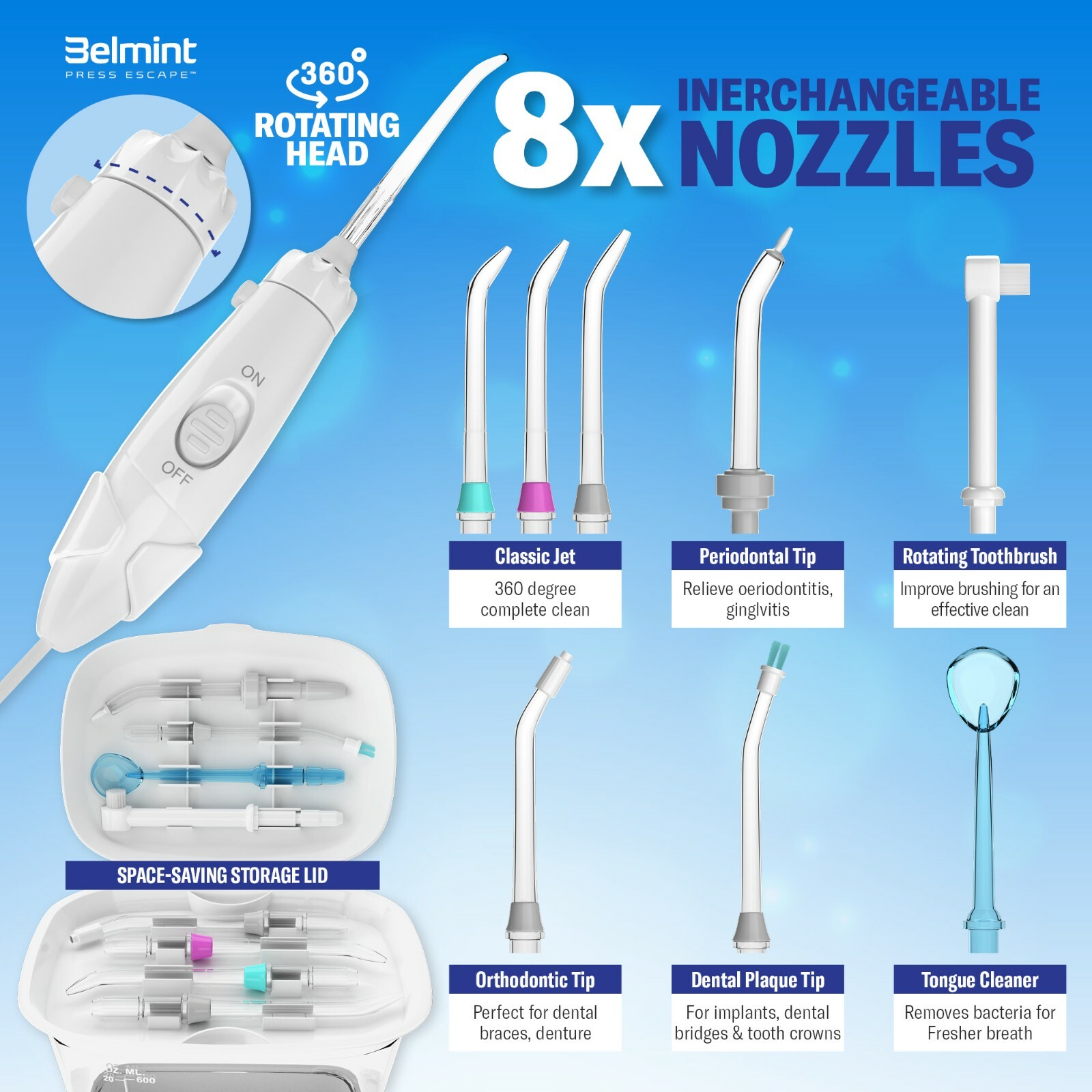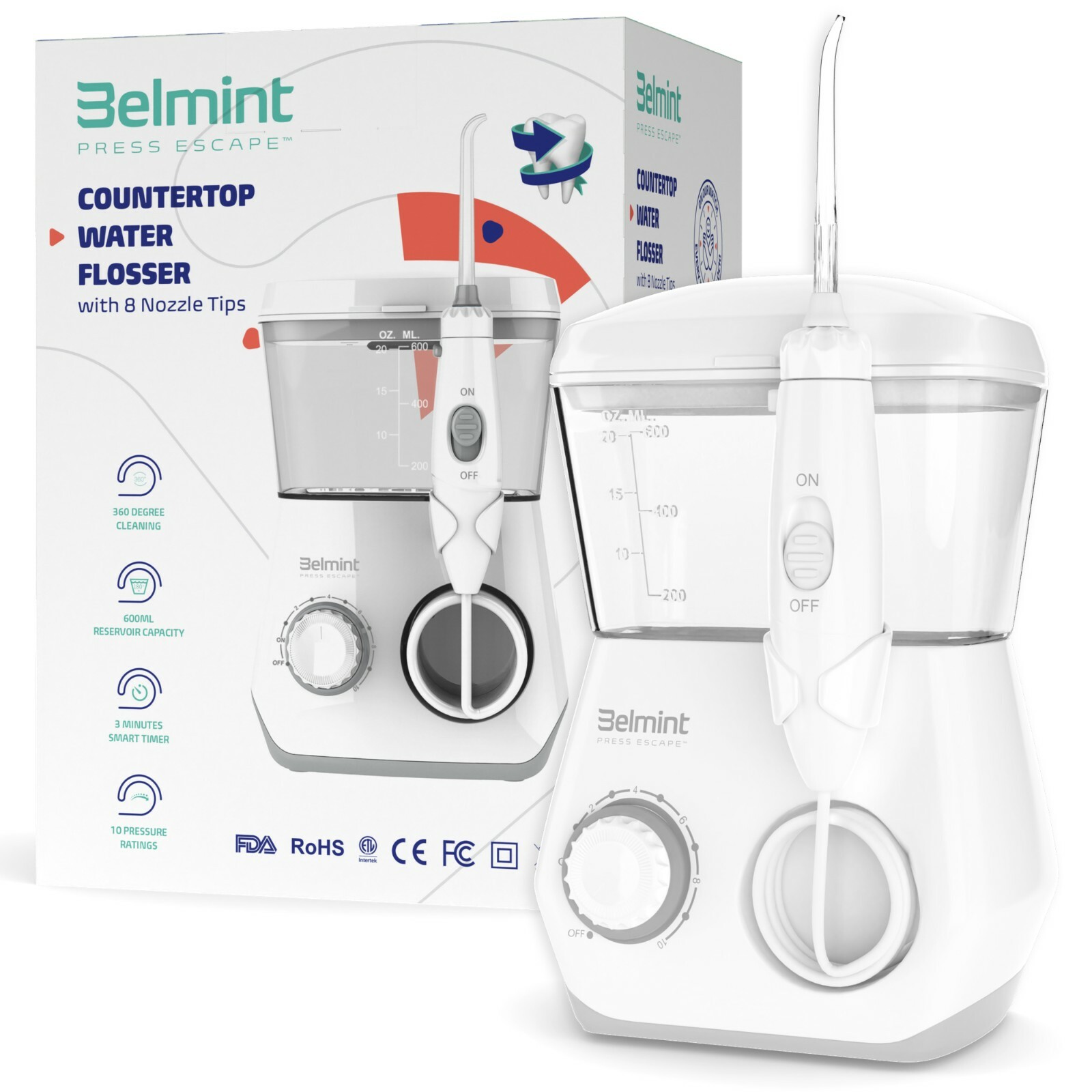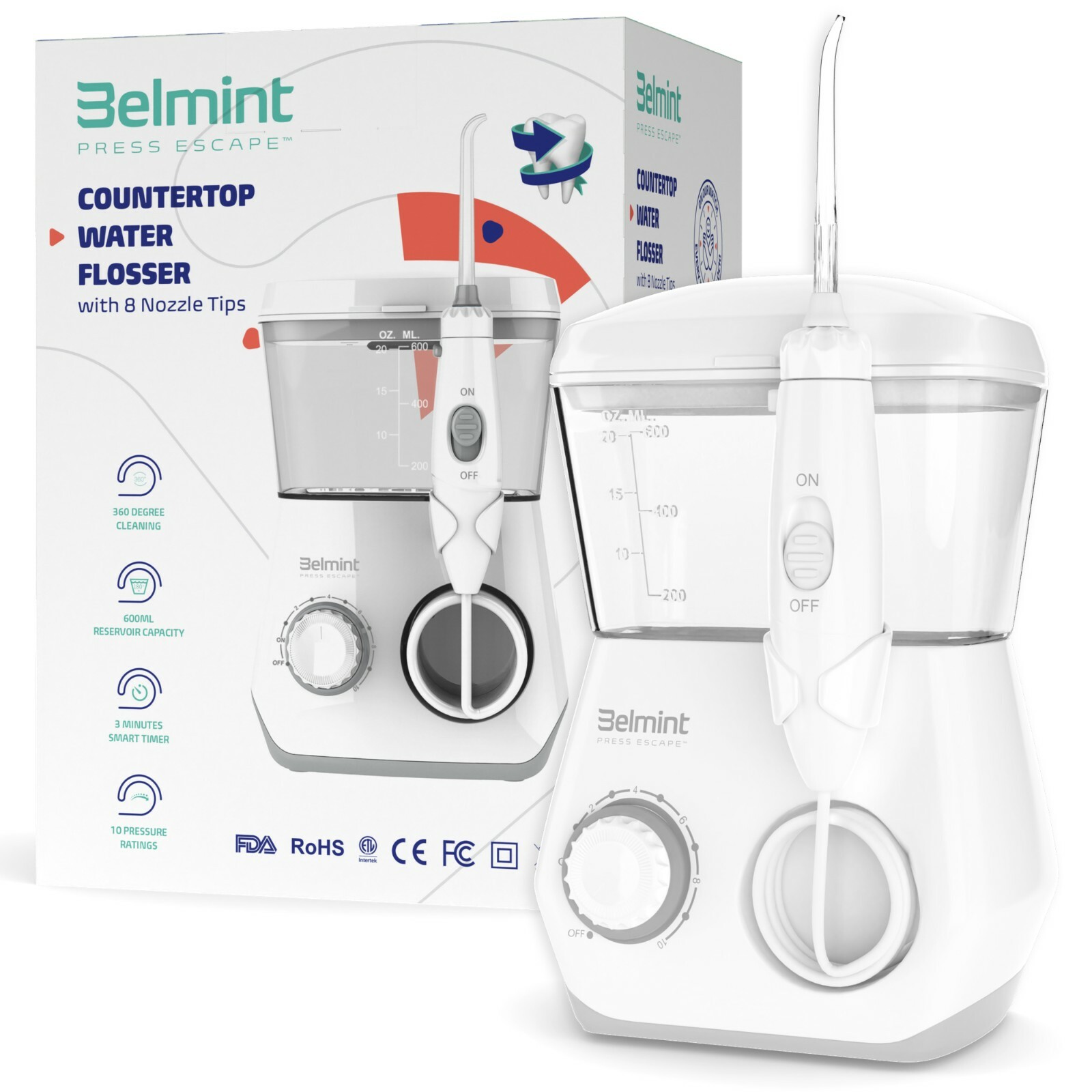 DESCRIPTION
PERFECT FOR DEEP CLEANING – Dentists agree that brushing alone is not enough! Remove deeply trapped food residue with many pressure and wand options. Ensure your teeth do not decay or form cavities with regular deep cleaning from the comfort of your own home.
MULTIPLE PRESSURE OPTIONS – Our deluxe water pick features 10 pressure settings that enable each person in the family to get a sound pressure they need to maintain clean, healthy teeth and gums without discomfort. Quickly and easily blast away food and debris.
LARGE WATER CAPACITY – With 600ml water available before a refill is needed, you'll be able to use this premium water flosser for around 2-3 uninterrupted minutes without worrying about having to stop and refill the tank mid-way through a cleaning. The tank is removable for easy refills.
ANTI-SLIP & ANTI-LEAK – The sturdy design of our countertop water pick enables you to use it without worrying about leaks or slipping. 4 anti-slip suckers provide a secure base. At the same time, our anti-leak valve ensures water flows where it should and does not leave a messy puddle.
SPACE SAVING STORAGE COVER & MULTIPLE TIPS – Our space-saver lid stores all eight tips, keeping them clean and out of the way, but always within reach. Includes: 3 Classic Jet Tips, 1 Orthodontic Tip, 1 Dental Tip, 1 Periodontal Tip, 1 Tongue Cleaner, and 1 Toothbrush.
Prevent tooth decay, cavities, gingivitis, and more with this multi-pressure oral irrigator and dental pick from Belmint!
With 10 pressure settings and 8 multifunctional tips, your teeth will feel as clean as when you left the dentist.
KIT INCLUDES:
3 x Ordinary High-Pressure Tip: For general flossing & healthier gums.
1 x Periodontal Tip: Worry no more about periodontitis, gingivitis, or gum shrinking.
1 x Orthodontic Tip: Perfect for braces – no more food debris!
1 x Dental Plaque Tip: clean retainers, implants, bridges, crowns, and prosthesis!
1 x Tongue Cleaner Tip
1 x Hydraulic rotating toothbrush: Brush your teeth with the power of water!
1 x Instruction manual
A DEEP CLEAN AT HOME
With 600ml of water, 8 tips, and 10 pressure settings, we wanted to make sure you can get your teeth as clean as possible and free from trapped food, ensuring you keep your teeth and gums healthy for years to come.
Reduce or eliminate gingivitis & improve the overall health of your gums
Cleans deep between teeth & below the gumline
Recover from gum disorder with better oral hygiene
Accelerate blood circulation by massaging and stimulating the gums
Minimize cavity risk
ANTI-SLIP & ANTI-LEAK TECHNOLOGY
We want you to have the best experience possible, so we have created a long-lasting water flosser that doesn't slip when used or leak when you aren't around. Worry no more about coming back to a puddle of water or starting your routine only to find a broken tool. The Belmint oral irrigator is here to help and designed to last.
Features:
Dimension: 5.5"(L) X 5"(W) X 8"(H)
Net Weight: 2lbs
Water Tank: 600ml/20.3oz
Waterproof Grade: IPX 4
Power: 18W
Noise:<72 dB
Water Pulse: 1250-1700times/min
Frequency:50/60Hz
Voltage: AC100-240V
ReturnsAll orders purchased as new may be returned in unopened, unused condition. Refurbished items can not be returned.
Please note: We do not cover the shipping cost to return items.
Hassle Free Returns:
Unhappy with an item or have a question. Feel free to CONTACT US anytime and we will do our best to fix it for you.
ShippingYour order will be dispatched within 1 working day of receiving payment (Monday-Friday) and you should expect to receive it one or two days after dispatch (for orders sent RM 1st Class).
In the very unlikely event that your item is lost or damaged during post, then WE are responsible and will issue either a full refund or replacement.
PaymentWe only accept payments by PayPal only. With PayPal you can check out simply and more securely at millions of online stores with just an email address and password. You don't have to enter your credit card details every time you pay.
About UsLIVE LIFE RELAXED
We believe in the power of personal escape. All affection begins with self-love, so we develop massage and relaxation products that turn anytime into me time. That's how we put everyone else's business on pause—and turn on your own pleasure.
Contact Us
Will be happy to answer your inquiry
Newsletter
Join our sleek newsletter
We Accept Only
Belmint Copyright © 2017. All rights reserved.